Projects
In 2013, SCI is funding distribution of solar cookers, improved cookstoves, retained-heat cookers, and water pasteurization indicators (WAPIs) in Kenya and Nepal.  Working with reputable community-based organizations FOTO, SURE, and NAREWAMA in Kenya, and FoST in Nepal, SCI works to bring solar cooking technology to the people who need it most as quickly as possible.
Solar cooking organizations, including Solar Cookers International (SCI), have launched, maintained, and helped expand projects around the world since 1995.  Some impact thousands of people, and some help a single community.  SCI former Board member and well-known solar advocate Patricia McArdle compiled this current list. 
Ten of The Most Significant Solar Cooking Projects in the World
To read the full stories, go to http://solarcooking.org/significant
CHAD—People in four refugee camps in Eastern Chad are cooking with SCI's solar cookers called CooKits (pronounced "cook-its") thanks to Jewish World Watch's Solar Cooker Project and the KoZon Foundation, a Dutch charitable group. It all began in 2004 with a demonstration in a Darfur refugee camp on how to use a CooKit, and women soon began training each other.
The women took ownership of their project and have made the more than 50,000 CooKits now in use, earning an income from this activity. Solar cooking reduces the need for refugee women to leave the camps to search for firewood and risk attack by hostile forces… read more
KENYA-Introducing solar cooking to the Kakuma refugee camp in Kenya was Solar Cookers International's first and largest refugee project, beginning in January 1995. Kakuma had considerable refugee turnover, but by 2004, when Solar Cookers International (SCI) concluded the project, the camp had tripled in size to nearly 90,000 refugees. Though rapid growth posed problems for assisting all those who wanted to solar cook, SCI ultimately served over 15,000 families....read more
HAITI—After the 2010 earthquake, privately funded groups and individuals went to Haiti to introduce solar cooking into that country, which had already cut down most of its forests to make charcoal for cooking. Solar Cookers International, Sun Ovens International and Solar Oven Society all had projects, but the one that garnered the most publicity was the work of celebrity chef Jose Andres... read more 
MADAGASCAR— Heavily deforested southwestern Madagascar has about 330 sunny days per year. Over the past ten years, the Swiss ADES Foundation has taught people to build and use more than 50,000 solar cookers reducing wood consumption by 65%...
CHILE— One Woman's Story: Lucile Rojas remembers the days when she and her neighbors near Villaseca, Chile, used to risk their lives to cook a hot meal over a wood-burning stove. They were chased by landowners and shot at. "We had to steal firewood, because there was no longer any left in the places where you could freely look," says Mrs. Rojas. She was among those who took a stand and led a successful drive to get solar cookers. She and 24 other families in her community then opened a village restaurant, Delicias del Sol, preparing only solar cooked food. It is thriving both locally and as a tourist destination, and now seats 120 people. "The idea is to show the world the wonders of solar energy," says Mrs. Rojas. Reviews are good. "It's the best meal we've had in Chile," said Mark Matthews, a 25-year-old New Zealander… read more
VIDEO: A Chilean restaurant entices guests with sun-baked delicacies, cooked in the establishment's special solar ovens.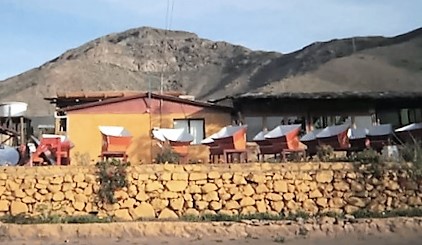 The Delicias del Sol restaurant, known for serving excellent food, has become a tourist destination for the village of Villaseca, Chile
The sun shines on micro-businesses—Learn more about solar restaurants, bakeries and street vendors in Lesotho, the Gambia, Morocco, Namibia, Switzerland, Argentina, Mexico, Thailand and elsewhere.